Ronnie Maith says:
For my choice I take a 9'6" or 10' - 7 wt. rod and fish a slow intermediate line for 80% of the season.
When it is warm in May I use a floating line and fish a dry Mayfly or Daddy longlegs.
Most of my fish are caught on a Damsel Nymph or a Montana. I use a Cats Whisker with a gold head when all else fails at any time of the year.
We welcome contributions from all members to this page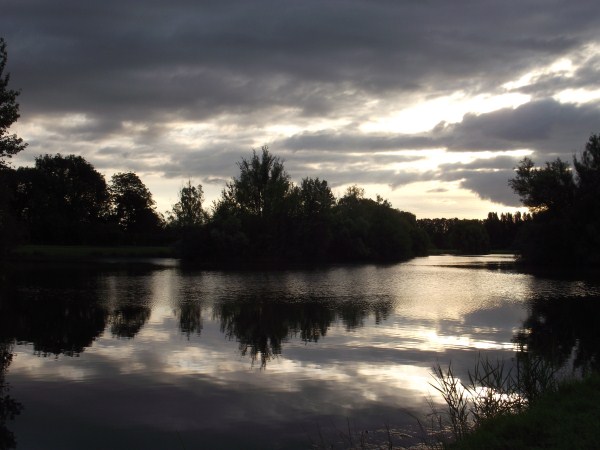 Fishing Tips by Lucius Pike
Probably the most important tip at Roxton Park is to relax and ensure you take the time to absorb the peaceful beauty of the lake and its surroundings. Whether in Spring Summer or Autumn it is a truly beautiful place, that if you let it, will banish the cares of everyday life in an instant.
With depths in the lake between 6 and 16 feet (a map of the lake giving depths is provided in the lodge) a floating line will suffice in nearly all circumstances, varying the leader length between 9' and 12', up to 15' if needed to get down to the depth of the feeding fish. Generally though a leader of 9' or 10' foot will suffice, with the trout more often than not feeding in the upper layers of the water. An intermediate line can of course prove a useful alternative, particularly early season or in windy conditions. A 9' or 9' 6" rod taking a 6 or 7 weight line is ideal.
When the 1st April brings us back to the water full of anticipation for the season ahead dark nymphs/small lures are a good choice, with the Montana being particularly productive. Even in the often cool early season weather there are good hatches of buzzers, in particular black and the large grey variety commonly known as "Grey boys". During a rise buzzer patterns will be successful when fished static or very slowly in the surface film, and at other times down deeper with a figure of eight or other steady retrieve.
As the water warms and the first Damsels hatch, Pheasant Tail, Gold Ribbed Hares Ear and Damsel nymph patterns will all take good fish, varying the depth and speed of retrieve according to conditions. Gold head patterns are particularly successful when the fish are feeding in the deeper water. Mayfly nymphs are also worth trying as May progresses, with the Grey Wulff the best option in late May/early June when there are good Mayfly hatches. Small black sedges also hatch freely at this time of year with the artificials being successful when fished in or just below the surface film.
As we move into summer, the Damsel hatches reach their peak and most of the larger nymph patterns will take fish with a Demoiselle proving better than most. During the day Daddy Longlegs start to be blown onto the water and fished dry provide very exciting sport. Goldhead Daddy's fished sub surface also account for a lot of fish at this time of year. There are excellent sedge hatches, particularly in the evening, including the large red sedges which are true giants of their kind. G & H Sedge and Silver Sedge on the surface make for exiting sport either static or twitched along. Silver Invicta is a good sub surface sedge imitator.
Daddy's and Sedges continue to be successful right through to the end of the season, with buzzers again coming into their own. Although there are still good buzzer hatches when fish can be caught on or near the surface, it pays to try all depths at this time of year, including fishing very slowly close to the bottom. There are also a lot of "Fry Bashers" around in the autumn and fry imitators such as Polystickle or Appetizer will generate some fierce takes. Nymph patterns fished slowly will continue to catch fish as the water cools.
Looking forward to seeing you on the bank when happy dace are here again!
Tight Lines,
Lucius
END OF SEASON LESSON
Despite having been lucky enough to fish for 60 years, every time I go fishing, I learn something. On this occasion 27th October 2015 I was fortunate to learn not one lesson but two from and expert called Andy Robinson. We were dry fly fishing on this wonderful lake -- three of us, Andy, myself and my beautiful black Labrador Monte.
The first lesson was, if some of the water is calm and some has a small ripple from the wind, you are much more likely to succeed on the rippled water. Sounds obvious, but I had never thought of it. The second lesson is when fishing a dry fly on still water, you need to have a leader at least 12 foot long, maybe even longer and some say that the same applies to salmon fishing. Mind you it helps to be able to cast well like Andy and not like me who with a long leader looks like someone doing a firework display.
Still, with the tutor, I was successful and Monte was impressed.
The first photo is the pupil and Monte. The second is of the tutor.
Michael Robinson