The lake is mature and set in the beautiful surroundings of the Ouse valley in Bedfordshire. There is a profusion of bird life, with Kingfishers, Great Crested Grebes, Oyster Catchers and Green Woodpeckers nesting in the area, to brighten the most overcast day. The lake is bordered on three sides by established trees, providing excellent shelter , but plenty of casting room, on even the breeziest days, and the river Ouse itself forms the southern boundary.
There are excellent hatches of fly and in the clear water "Roxton Rainbows" have a reputation for being free rising, and hard fighting.
Hawthorn flies and buzzers are abundant early in the season, followed by pond olives, mayflies, damsel flies, daddy longlegs from the bank side meadow and good hatches of sedge from early summer onwards.
Depth varies from 4 to 15 feet offering the opportunity to use a variety of tactics, with a large area of deeper water to cushion the effect on the lake from extreme temperatures.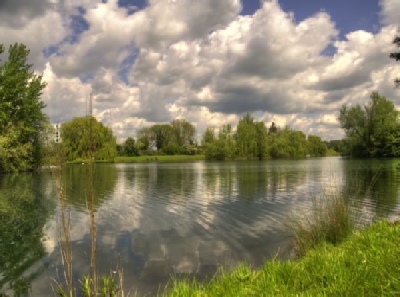 Construction of the original landing jetty now extended and enhanced.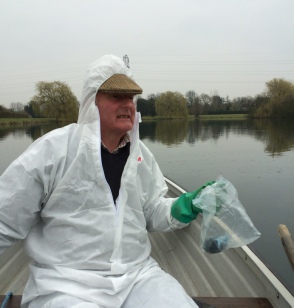 All suited up for the annual application of Smurf Powder - non toxic blue dye to deter weed growth