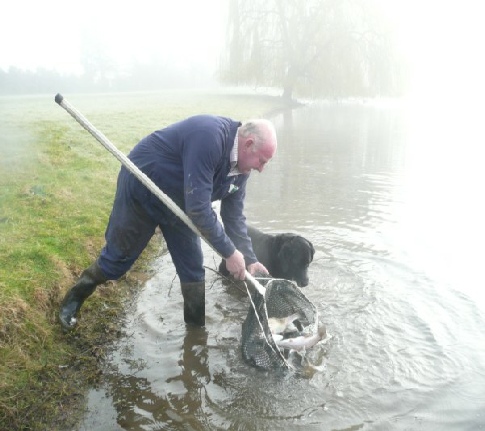 Trout Fishing Update – May and June 2022
God Bless Her Majesty the Queen!
Let's kick off with a few general points:
 Please ensure the entrance gate is kept locked at all times – there have been many occasions where this has not been the case
 Please remember that the catch limit per day is 6 fish of which 3 may be killed.
 A reminder that "Blobs" and/or "Strike Indicators" are not permitted at Roxton Park.
 Any cheques for guest tickets must be made payable to P C Bath Ltd or the Bank will not accept them.
Early May thankfully provided an improvement in the weather and Hawthorns, Alders and Sedges were soon about in good numbers. Mayflies started early on the riverbank side and there were several good hatches of Pond Olives in the more sheltered area of the lake. Mid-month onwards there were thousands of Damsel Flies emerging and the jetty was covered with exuvias left behind after their final moult.
Stockings went ahead on the planned dates and included some larger Rainbows and Browns, with an additional 50 Browns on 12th May. Full details are posted in the lodge as normal.
Most successful flies in May were:
Sub-surface – Buzzers (most popular), Damsels (incl Dry), Spiders, Pitsford Pea, Diawl Bach and "Genghis" (if anyone Khan, Genghis Khan!).
On the top, most popular were Grey Wulff and other Mayfly patterns, Hoppers, Daddies, Adams and Olives.
Moving into June, we had a couple of very warm days, but generally the max was around 20c with very little rain. Mayfly hatches were very good but did not last into June as far as normal. In addition to the above, Dry Sedges, Black Knats, CDC Emergers, Adams and Yellow Bellied Humpy's all came into play in June. Jungle Cock was written on one card. I sympathise of course, and believe there is an ointment available.
The proportion of larger fish being caught remains good and our Browns continue to show well. Weed cutting/clearing continues as necessary and although we try to keep this to a Tuesday, it may take place on other days. We have had 3 successful "party days" so far and members can book in advance to secure the sole use of the Lake on a Tuesday, at a cost of £30 per guest, minimum £210.
A couple of unusual incidents occurred during the period. A rod and reel were lost overboard and thankfully later recovered (caught) by another member. Also,
a Pike took a Trout being played and was brought to the boat after refusing to let go! Regrettably, a large Pike well over 20lbs was found dead after spawning, which sadly is not unusual.
In the avian world, Cuckoos, Green and Great Spotted Woodpeckers, Kingfishers and Little Egrets are our constant companions. The Great Crested Grebes have thankfully moved their nest site and had laid 4 eggs by the end of June, curiously shaped with a point at both ends. Reed warblers, Chiff-Chaffs Willow Warblers and Black Caps can be seen/heard most days. I have seen a Hobby on two occasions, their darting, twisting, aerobatic flight being something truly to behold. Common Terns often perch on the jetty and are very reluctant to move, occasionally dive-bombing as if protecting their nest.
Turning to Butterflies; as well as the usual suspects Small Coppers, Commas and Speckled Woods have been seen. June saw many Dragon Flies on the wing including Emperors, Southern and Brown Hawkers, Black Tailed Skimmers and Common Darters.
The best of the summer flowers around the Lake are yet to come, but on the drive down to the lake you can see Field Scabious, Common Mallow, Knapweed, Ladies Bedstraw, Ox-eye Daisies, and if you look very carefully Bee Orchids.
That reminds me. I was fishing the other day with an author friend of mine Sue Denim who in conversation said "Lucius, what is the similarity between a striking Railway workers picket line and a Dry Fly Fisherman?" "I don't know," I said. She replied "They both stand around for ages waiting for a rise!"
That's all folks!
I look forward to seeing you on the bank.
Tight lines,
Lucius Pike
Trout Fishing Update – End April 2022
Welcome members old and new to the 2022 season at Roxton Park!
Opening day was a beautiful warm spring morning with a gentle SW breeze and a light ripple – then I woke up! In reality we had some snow showers during the day on 31st March and 1st April was a raw breezy day. Cold weather with night frost, very little rain and predominantly NE winds was the general pattern throughout April and it was only in the last week that the situation really began to improve.
Despite the weather our stoic members have been out in force and there were 171 fishing efforts during April. We are very pleased with our stock fish, being a mixture of Browns around 3lbs, stock Rainbows at over 2lbs and a good proportion of large Rainbows in the 4-8lb bracket. The exciting thing is, you never know what the next fish will be! With such large fish present and even the smaller ones fighting like Tigers, we would strongly recommend that you use a minimum leader strength of 6lbs.
So far Browns up to 4lbs and Rainbows up to 8lbs have been caught. No very large Browns as yet, but I have a feeling there are some present. Just a reminder that it is absolutely your choice as to whether you take fish or return them, whether they be Browns or Rainbows, large or small. However, please only return fish that will clearly survive. If in doubt, please knock them on the head.
Due to the prevailing conditions the variety of flies used has been less than normal. Not surprisingly, Dries were not used a great deal, but Yellow Humpies, Adams and CDCs all took fish. Black Buzzers (+ red and green), and Damsels were the most successful flies overall, with Black Spiders, GRHE and PT Nymphs and Diawl Bachs also taking a good number of fish. The most popular lures were Cats Whisker and Pitsford Pea.
Another four Willows were pollarded during the closed season and are sprouting strongly. We have already had two weed cuts in April and the normal non-toxic blue dye has been applied to deter weed and algae growth as the season progresses. The roadway has been resurfaced and cleats have been installed in all the boats to assist with controlling the anchors.
Some important housekeeping points:
 Please write clearly on the return cards and give full details.
 Several members have forgotten that the Fishery is closed each Tuesday. Please adhere strictly to this rule and avoid the disappointment of being turned away.
 In line with our recent email please keep the entrance gate locked at all times and call me or one of the other emergency numbers if there are any problems.
On the wildlife front, our most famous harbinger of Spring the Cuckoo, returned on 22nd April, a week earlier than last year. Martins and Swallows were present in some numbers by the end of the month and Common Terns are also back with us. Chiff-Chaffs returned very early this year and the wonderful descending song of the Willow Warbler can nearly always be heard about the place. A pair of Kestrels and several Sky Larks can be seen, and heard, on the drive down to the lake and a Common Sandpiper was seen at the lake on passage. There are a few Ducklings and Goslings about and the Grebes have a nest in the NE corner by the pylon. Please give them a wide berth as they have not bred successfully for the last two years and their choice of site this year looks very vulnerable. A couple of Otters have been seen, but as normal seem to be passing through and various Deer species are around including Roe and Chinese Water Deer.
Despite the weather, Brimstone, Orange Tip and Holly Blue Butterflies have been seen on the very few warmer days.
That reminds me. I was fishing the other day with a retired athlete friend from Eastern Europe, Onya Marks. Onya reminded me of the story of the Pirate who was talking to the new Cabin Boy. The boy asks "how did you lose your leg?" The Pirate replies "It was taken by a Shark when I fell overboard". The boy then asks "And how did you lose your hand?" and the Pirate replies "I was collecting water from a stream and a Crocodile bit it off". "And how did you lose your eye asks the Cabin Boy?" "I was on deck one day when a Seagull pooped on my face" replied the Pirate. "You mean you lost your eye by being hit in the face by Seagull poo," said the boy." "No" said the Pirate, "y'see it was me first day with me new Hook!"
That's all folks!
I look forward to seeing you on the bank – Mayflies next on the agenda!
Tight lines,
Lucius Pike